TEXAS HILL COUNTRY LAND & RANCHES FOR SALE
Texas Hill Country Land & Ranches for Sale

Search Texas Hill Country Land for sale and Hill Country Ranches for sale in Texas our active listings page. Sort the Texas Hill Country land and ranch listings search results by days on site and price by using the Sort button. Click on any of the TX Hill Country ranch and land properties for full listing details, maps, photos and more. Use the Refine Results button to customize the search results for land and ranches for sale in the Texas Hill Country. For your convenience every listing has links to Ask a Question or Schedule a Tour of a property. You can also change the display of Texas Hill Country ranch land listings to Gallery, List or Map. Sign up for a free Property Tracker account to create and save searches and receive email updates on properties that match your search criteria. Longhorn Realty represents buyers and sellers with all types of land properties throughout the TX Hill Country.
Contact us about Texas Hill Country Land today!
Texas Hill Country Ranches, Land for Sale on MLS
On this page you'll find active listings in the Texas Hill Country counties served by Austin MLS & Central Texas MLS and these counties include: Bell County, Blanco County, Burnet County, Comal County, Coryell County, Gillespie County, Hays County, Kendall County, Lampasas County, Llano County, Mason County, McCulloch County, San Saba County, Travis County and Williamson County. Austin MLS (ABoR) offers the most active listings for our Texas Hill Country landing page and those listings can be viewed below. Click HERE to see Texas Hill Country land & ranch listings from Central Texas MLS (CTXMLS). View a Texas Hill Country county map below: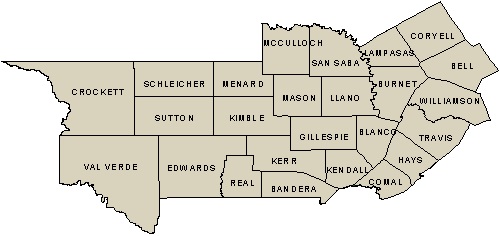 Click HERE to sell your Texas Hill Country Land or Ranch with Longhorn Realty!
ABoR - Texas Hill Country Land & Ranches by Acres
ABoR - Texas Hill County Ranches & Land for Sale
December 1, 2023
$2,067.64
Avg. $ / Sq.Ft.
ABoR - Texas Hill County Ranches & Land for Sale by Price
Didn't find what you're looking for? Try performing your own custom property search!
Texas Hill Country Ranches & Land for Sale
Texas Hill Country, a land of rugged beauty, rolling hills, pristine rivers, and boundless skies, has captivated hearts for generations. Texas Hill Country Land and ranches offer some of the most beautiful and natural landscapes found in Texas. Land and ranches for sale in the Texas Hill Country include working cattle ranches, hunting ranches, recreational land, unrestricted, vineyards, equestrian properties, luxury hill country estates and live water properties on the shores of the many lakes and rivers. Whether you envision a private sanctuary, a working ranch, or an investment in Texas' timeless allure, Texas Hill Country offers the canvas for your dreams. Contact us today to explore these exceptional land and ranch opportunities and embark on a journey celebrating the rugged elegance and heritage of Texas Hill Country.
Search Texas Hill Country Land & Ranches by Map
The Texas Hill Country, with its rolling hills, clear rivers, and charming towns, offers a wide range of attractions and activities for visitors to enjoy. Whether you're interested in outdoor adventures, cultural experiences, or simply relaxing in a picturesque setting, the Texas Hill Country has something for everyone. Here are some of the top attractions and things to do in the Texas Hill Country:
Enchanted Rock State Natural Area: Hike to the summit of Enchanted Rock, a massive pink granite dome, for panoramic views of the Hill Country.
Pedernales Falls State Park: Explore the Pedernales River and its dramatic waterfalls, which create a beautiful backdrop for hiking, swimming, and picnicking.
Texas Wine Country: Visit wineries and vineyards in areas like Fredericksburg and Kerrville to sample Texas wines and enjoy the scenic views.
Historic Fredericksburg: Wander through the charming town of Fredericksburg, known for its German heritage, boutique shops, art galleries, and delicious cuisine.
Luckenbach: Experience the laid-back spirit of Luckenbach, a tiny Texas town that's famous for its live music and rustic charm.
Gruene: Explore the historic district of Gruene, known for its preserved 19th-century buildings, live music at Gruene Hall, unique shops, and dining at the Gristmill River Restaurant & Bar.
Cavern Tours: Take guided tours of underground caves like Natural Bridge Caverns and Inner Space Caverns to see stunning rock formations.
Lost Maples State Natural Area: Visit during the fall to witness brilliant foliage and enjoy hiking along the Sabinal River.
LBJ Ranch: Explore the Lyndon B. Johnson National Historical Park, which includes the former president's ranch, the Texas White House, and the LBJ Museum.
Guadalupe River State Park: Enjoy tubing, kayaking, and fishing on the Guadalupe River, along with hiking and picnicking in the park.
Wildlife Ranch: Drive through the Natural Bridge Wildlife Ranch to see exotic animals up close in a safari-style setting.
Hill Country Lavender Farm: Visit lavender farms like Becker Vineyards Lavender, where you can enjoy the fragrant lavender fields and shop for lavender products.
Old Tunnel State Park: Witness one of the largest colonies of Mexican free-tailed bats in the state as they emerge from an abandoned railroad tunnel at dusk during bat season.
Hill Country Galleria: Shop, dine, and enjoy live music at this open-air shopping center in Bee Cave.
Kerrville Folk Festival: Attend this annual music festival featuring folk, country, and Americana music in the picturesque town of Kerrville.
McKinney Falls State Park: Explore the park's waterfalls, hiking trails, and swimming holes just minutes from downtown Austin.
The Devil's Backbone: Drive along the scenic Devil's Backbone, a winding road with breathtaking views of the Hill Country.
The Texas Hill Country's natural beauty, cultural richness, and outdoor opportunities make it a beloved destination for travelers looking to experience the heart of Texas. Whether you're an outdoor enthusiast, a history buff, or simply seeking relaxation, you'll find plenty to do and explore in this captivating region.
Buying Texas Hill Country Land or Ranches
Looking to buy land in the Texas Hill Country? Longhorn Realty is pleased to provide the active land and ranch listings shown above. Each Texas Hill Country land listing shows price, photos, property details, school info, locations maps, property taxes and more. Need help finding land or ranches for sale in the Texas Hill Country? Please use the contact form below or simply give us a call, 512-289-2121, a knowledgeable Land Specialist will be in touch with you shortly.
"We have brokered many real estate transactions in the Texas Hill Country and our experienced Land Specialists are ready to help you with all your land and ranch needs."
Our Texas Cities with Land & Ranches for Sale
Our Texas Counties with Land & Ranches for Sale
Contact us about Texas Hill Country Land and Ranches